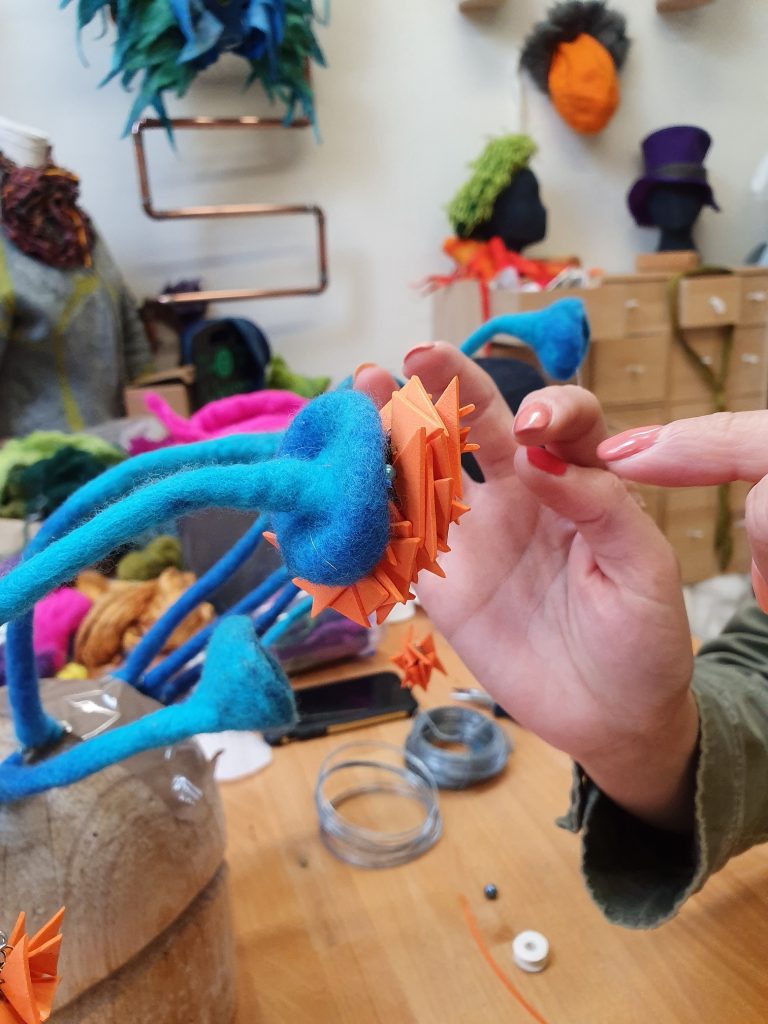 This piece was unveiled at Council of Irish Fashion Designers Autumn Fashion Show. It was a collaboration supported by Design and Crafts Council of Ireland.
The collaboration paired artists like myself with CIFD members in order to develop new work informed by each others practices.
I was paired with Betzy from Sandia Dublin, a jewelry maker with passion for cut rubber embellishments.
I loved working on the piece as it gave me a license to learn. I had a mentoring session with Kate Betts Hats who showed me some techniques for attaching free standing details such as the tenticals that I made.
The central idea of the piece is to celebrate differences as a crowning glory of your character.
Looking into perception of women. Reflecting on senses and abilities and how the changing status of women in communities changes the attitude towards character and talent. From fear to light, from Fragility to Monumentality. Broadly looking into insight and senses as strength. It also nods to the omnipotence of nature "crowning" the female goddess with pollen pods informed tentacles.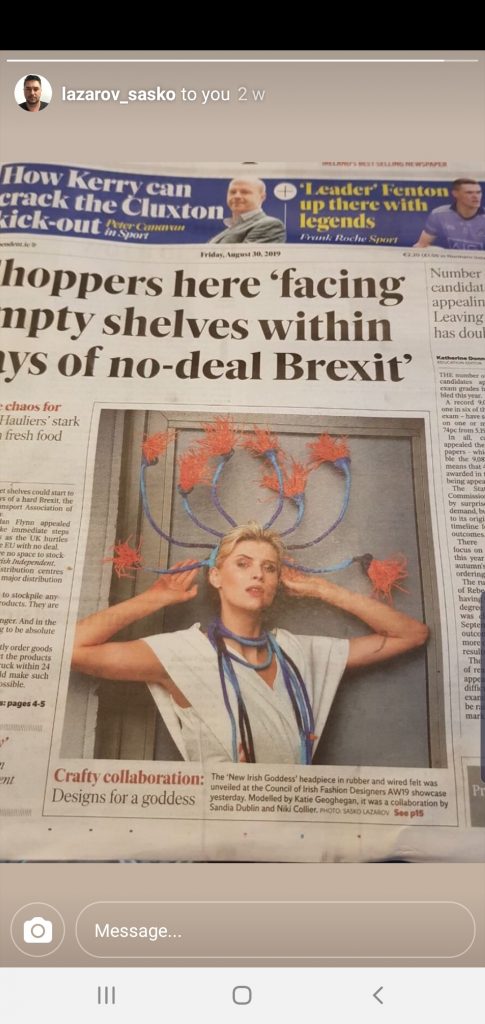 ThThe piece is beautiful, strong and authentic- just like Niki & Betzy.
It is a homage to contemporary Ireland. It showcases Ireland as the land of 1000 welcomes as a disabled immigrant from Bulgaria and a Venezuelan were enabled to create and build a living out of their passion.
Here in Ireland.
Amongst the folk they call home.
Materials: handmoulded wool, silk and handcut expanded rubber.
Techniques- wet felting, wire manipulation, handstitch.
The piece made the front page of the Irish Independent and got a lot a praise during the show.
I'm delighted that it is also curated for the Knit and Stitch show in RDS Dublin this autumn.