Venue: University of Atypical, Belfast
Curated by: Jane Marrow
Jane is an independent curator and PhD researcher based in Belfast, who – until October 2020 – was the interim CEO of University of Atypical and co-developed this project with Niki and with artist/UofA colleague Deirdre McKenna.
Virtual Tour Now Available (Click the Image)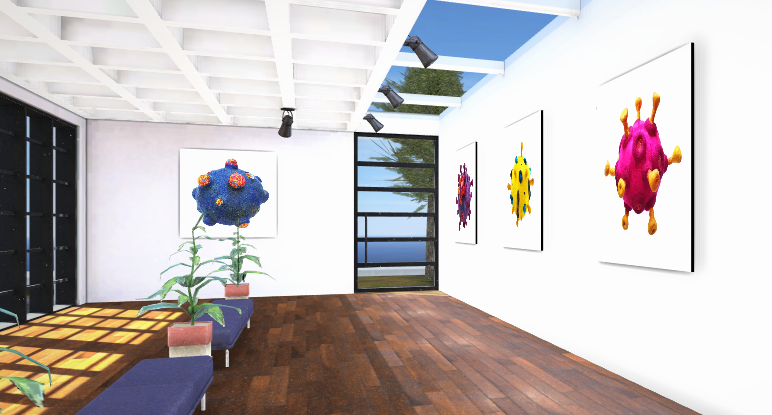 How did I get infatuated with the bugs?
The sculptures are the culmination of a conversation in wool which started for myself a decade ago and somehow to my overwhelming sadness brought the whole world to a standstill in 2020. The dichotomy between function and form in viruses is commonly our immediate response. How something so cute and small (in our eyes) could do so much damage to us humans. Are we the measure to all? Our response to their existence measured to our own is baffling. Humans have the weakness to put ourselves in the centre of the universe rather than grasping the idea that more often than not we are part of it. And in instances we are the threat to every living organism – including our own kind.
Catching the bugs as a personal journey.
My family lives with long term illness as a result of it. A virus veteran myself I study the impact of viruses on a personal and global level. The work has been a mechanism to explore humanity, how we operate in a crisis and how we process the impact of trauma within our relationships and our belief system. The lessons I have learned are of growth, hope and kindness. I strive to share this experience through my practice.
Materials and Process:
The Viruses are constructed by a crust and a core:
The crust is a combination of animal and plant based fibres which communicates the spread of the virus and the impact it has on our bodies. Whether respiratory or through fluids the spread is embodied in undyed wool to emulate sensory experience. The fearmongering of geographical containment is communicated by silk and Italian fibres.
The core is a combination of rubbish created during the pandemic which has been covered in wool to develop felt.
The viruses included in this exhibition are: Common Cold, Corona, AIDS, Hep B, Chicken Pox, Ebola, The Plague, Bird Flue, and Herpes.